CONTINUIAMO A PARLARE DI LADY DIANA E DI UN'ALTRA ICONA DI STILE A CUI LE DONNE HANNO SEMPRE GUARDATO CON AMMIRAZIONE: JACKIE KENNEDY.
WE CONTINUE TO TALK ABOUT LADY DIANA AND ANOTHER STYLE ICON THAT WOMEN HAVE ALWAYS LOOKED UP TO: JACKIE KENNEDY.
TRACCIA AUDIO DELLA PUNTATA
RICORDIAMO LE SUE PRIME APPARIZIONI ACCANTO A CARLO, UN ABBIGLIAMENTO SEMPLICE E SCARPE SENZA TACCO PER NON SUPERARLO. IL SUO TAGLIO DI CAPELLI VENNE IMITATO DA TUTTE LE DONNE DEL MONDO.
WE REMEMBER HER FIRST APPEARANCES NEXT TO CARLO, A SIMPLE OUTFIT AND SHOES WITHOUT HEELS SO AS NOT TO OUTSHINE HIM. HER HAIRCUT WAS IMITATED BY ALL THE WOMEN IN THE WORLD.
ANCHE DA NOI….NON ESISTEVA ALTRO TAGLIO CHE IL SUO 
EVEN BY US….THERE WAS NO OTHER HAIRCUT THAN HER
LO STILE DI LADY D SBOCCIO' DOPO IL DIVORZIO NEL 1992, DOPO ESSERSI LIBERATA DALLE RESTRIZIONI PSICOLOGICHE DELLA CASA REALE, CHE LE AVEVANO PROCURATO NON POCHI PROBLEMI DI SALUTE. UN CRESCENDO STILISTICO CHE L'HA RESA ICONICA.
INFATTI TUTTI GLI STILISTI PIU' IN VOGA DESIDERAVANO VESTIRLA E LEI, SENZA PAURA DI OSARE, PRESENZIAVA IN PUBBLICO CON SEXY ABITI SOTTOVESTE DI VERSACE, SPACCHI, SCOLLI,
FRIZZANTI TONALITA'. SOPRATTUTTO INDOSSAVA SEMPRE SCARPE CON TACCHI ALTI PROPRIO PER VALORIZZARE LA SUA FISICITA' E IL SUO LOOK
ICONICA NEL SUO REVENGE DRESS OSSIA ABITO DELLA VENDETTA, VOLEVA APPARIRE UNO SCHIANTO E CI RIUSCI' BENISSIMO 
LADY D'S STYLE BLOSSOMED AFTER HER DIVORCE IN 1992, AFTER SHE HAD FREED HERSELF FROM THE PSYCHOLOGICAL RESTRICTIONS OF THE ROYAL HOUSEHOLD, WHICH HAD CAUSED HER MANY HEALTH PROBLEMS. A STYLISTIC CRESCENDO THAT MADE HER ICONIC.
IN FACT, ALL THE MOST FASHIONABLE STYLISTS WANTED TO DRESS HER AND SHE, WITHOUT FEAR OF DARING, APPEARED IN PUBLIC WITH SEXY VERSACE SLIP DRESSES, SLITS, NECKLINES,
SPARKLING SHADES. ABOVE ALL, SHE ALWAYS WORE HIGH-HEELED SHOES TO ENHANCE HER PHYSIQUE AND HER LOOK.
ICONIC IN HER REVENGE DRESS, SHE WANTED TO LOOK HOT AND SHE DID IT VERY WELL
IL TUBINO NERO VENNE INDOSSATO DALLA PRINCIPESSA IL 26 GIUGNO 1994, LA SERA IN CUI CARLO AMMISE IN TV IL TRADIMENTO CON CAMILLA PARKER-BOWLES. DIANA AVREBBE DOVUTO INDOSSARE UN ABITO DI VALENTINO (TANTO CHE LA MAISONO AVEVA GIA' INVIATO UN COMUNICATO STAMPA) MA ALL'ULTIMO MOMENTO DIANA DECISE DI OPTARE PER IL BELLISSIMO MINI DRESS NERO.
DIOR LE DEDICO' UNA BORSA LA "LADY DIOR" DIMOSTRANDO TUTTO L'AMORE DEL POPOLO NEI SUOI CONFRONTI CHE ANDAVA BEN OLTRE IL TITOLO NOBILIARE. INFATTI DIANA AMAVA DIRE: "MI PIACEREBBE ESSERE REGINA NEI CUORI DELLE PERSONE, MA NON MI VEDO COME REGINA DI QUESTA NAZIONE". INFATTI DIANA SEI NEI CUORI DELLE PERSONE DI TUTTO IL MONDO ANCORA OGGI. UNA VITA SPEZZATA TROPPO PRESTO, SEI UNA STELLA NEL FIRMAMENTO NON TI DIMENTICHEREMO MAI.
ASCOLTIAMO QUESTA CANZONE CHE E' UN INNO ALLE DONNE
LA DEDICHIAMO ALLA MEMORIA DI LADY D E A TUTTE LE DONNE CHE CI SEGUONO. 
CHE POSSANO ESSERE RESILIENTI NONOSTANTE LE DIFFICOLTA' DELLA VITA. DEDICHIAMO QUESTA CANZONE ANCHE A NOI. 
THE LITTLE BLACK DRESS WAS WORN BY THE PRINCESS ON 26 JUNE 1994, THE EVENING WHEN CARLO ADMITTED ON TV THAT HE HAD CHEATED ON HER WITH CAMILLA PARKER-BOWLES. DIANA WAS SUPPOSED TO WEAR A VALENTINO DRESS (THE MAISON HAD ALREADY SENT OUT A PRESS RELEASE) BUT AT THE LAST MOMENT DIANA DECIDED TO OPT FOR THE BEAUTIFUL BLACK MINI DRESS.
DIOR DEDICATED A BAG TO HER, THE "LADY DIOR", DEMONSTRATING ALL THE LOVE OF THE PEOPLE FOR HER THAT WENT FAR BEYOND THE TITLE OF NOBILITY. IN FACT DIANA LIKED TO SAY: "I WOULD LIKE TO BE QUEEN IN THE HEARTS OF THE PEOPLE, BUT I DON'T SEE MYSELF AS QUEEN OF THIS NATION". IN FACT DIANA YOU ARE IN THE HEARTS OF PEOPLE ALL OVER THE WORLD EVEN TODAY. A LIFE CUT SHORT TOO SOON, YOU ARE A STAR IN THE FIRMAMENT WE WILL NEVER FORGET YOU.
LET US LISTEN TO THIS SONG WHICH IS A HYMN TO WOMEN
WE DEDICATE IT TO THE MEMORY OF LADY D AND TO ALL THE WOMEN WHO FOLLOW US.
MAY THEY BE RESILIENT DESPITE LIFE'S DIFFICULTIES. LET'S ALSO DEDICATE THIS SONG TO US.
JACQUELINE KENNEDY 
POCHI SANNO CHE IL SUO NOME DA NUBILE E' JACQUELINE LEE BOUVIER E NACQUE IL 3 MARZO 1933 A SOUTHAMPTON. 
FREQUENTO' LA GEORGE WASHINGTON UNIVERSITY DOVE OTTENNE LA LAUREA IN BELLE ARTI NEL 1951. NEL 1949 SI RECO' A PARIGI PER UN SOGGIORNO DI STUDIO ALLA SORBONA DOVE RIMASE AFFASCINATA DALLA FRANCIA E DALLA SUA CULTURA.
NEL 1952 IL WASHINGTON TIMES LE AFFIDO' L'INCARICO DI REDATTRICE ED ARTICOLISTA, COSI' EBBE L'OPPORTUNITA' DI INTERVISTARE JOHN KENNEDY. JACKIE SEDUSSE LA FAMIGLIA KENNEDY CON UN MODELLO DI VITA INTELLETTUALE, EUROPEO E RAFFINATO, PORTABANDIERA DEL BON TON.
I TAILLEUR SONO UNA SCELTA DI RIFERIMENTO PER I LOOK DA GIORNO DI J. DURANTE GLI ANNI ALLA CASA BIANCA. SONO COMPLETI COMPOSTI DA UN ABITO O GONNA AVVITATO, GIACCHINA CORTA E SQUADRATA CON CAPPELLINO TONDO ABBINATO. IL MODELLO RICORDA MOLTO CHANEL MA JACQUELINE DA BRAVA FIRST LADY DOVEVA DIMOSTRARE IL SUO PATRIOTTISMO, QUINDI FACEVA DISEGNARE I SUOI DAL DESIGNER AMERICANO OLEG CASSINI.
FEW KNOW THAT HER MAIDEN NAME IS JACQUELINE LEE BOUVIER AND SHE WAS BORN ON 3 MARCH 1933 IN SOUTHAMPTON.
SHE ATTENDED GEORGE WASHINGTON UNIVERSITY WHERE SHE GRADUATED WITH A DEGREE IN FINE ARTS IN 1951. IN 1949 SHE WENT TO PARIS TO STUDY AT THE SORBONNE WHERE SHE WAS FASCINATED BY FRANCE AND ITS CULTURE.
IN 1952 THE WASHINGTON TIMES GAVE HER THE JOB OF EDITOR AND COLUMNIST, SO SHE HAD THE OPPORTUNITY TO INTERVIEW JOHN KENNEDY. JACKIE SEDUCED THE KENNEDY FAMILY WITH AN INTELLECTUAL, EUROPEAN AND REFINED LIFESTYLE, STANDARD-BEARER OF BON TON.
SUITS ARE A REFERENCE CHOICE FOR J.'S DAYTIME LOOKS DURING HIS YEARS IN THE WHITE HOUSE. THEY ARE SUITS COMPOSED OF A FITTED DRESS OR SKIRT, SHORT SQUARE JACKET AND MATCHING ROUND HAT. THE PATTERN IS VERY REMINISCENT OF CHANEL BUT JACQUELINE AS A GOOD FIRST LADY HAD TO SHOW HER PATRIOTISM, SO SHE HAD HERS DESIGNED BY THE AMERICAN DESIGNER OLEG CASSINI.
ALTERNATIVA MENO FORMALE AL TAILLEUR, IL VESTITO A TRAPEZIO SENZA MANICHE E' UN ALTRO CAPOSALDO DEL GUARDAROBA DI JACKIE, PREFERIBILMENTE IN TINTA UNITA E ACCOMPAGNATO DA ACCESSORI NEUTRI.
L' A LINE DRESS DIVENTA SINONIMO DI UNO STILE COPIATO DALLE DONNE DI MEZZO MONDO.
A LESS FORMAL ALTERNATIVE TO THE SUIT, THE SLEEVELESS TRAPEZE DRESS IS ANOTHER STAPLE OF JACKIE'S WARDROBE, PREFERABLY IN SOLID COLOURS AND ACCOMPANIED BY NEUTRAL ACCESSORIES.
THE A-LINE DRESS BECAME SYNONYMOUS WITH A STYLE COPIED BY WOMEN HALFWAY AROUND THE WORLD.
SE PER IL GIORNO JACKIE HA UN GUARDAROBA BEN DEFINITO, LO STESSO SUCCEDE PER LA SERA.
IF JACKIE HAS A WELL-DEFINED WARDROBE FOR THE DAY, THE SAME IS TRUE FOR THE EVENING.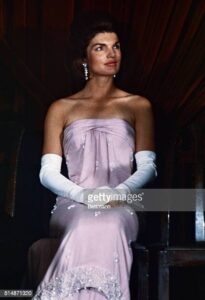 L'ABITO STRAPELESS LA FA DA PADRONE. IL MODELLO STRAPELESS E' QUELLO SENZA SPALLINE. I GUANTI ERANO SEMPRE LUNGHEZZA OPERA, SOPRA AL GOMITO, CHE JACKIE SCEGLIEVA SEMPRE BIANCHI A PRESCINDERE DAL COLORE DELL'ABITO.
THE STRAPLESS DRESS TAKES THE LEAD. THE STRAPLESS IS THE STRAPLESS MODEL. THE GLOVES WERE ALWAYS OPERA LENGTH, ABOVE THE ELBOW, WHICH JACKIE ALWAYS CHOSE WHITE REGARDLESS OF THE COLOUR OF THE DRESS.
I GUANTI BIANCHI ERANO UN ACCESSORIO FETICCIO PER JACKIE PER UN MOTIVO PIUTTOSTO BIZZARRO: SEMBRA CHE LA PERFETTISSIMA FIRST LADY AVESSE IL VIZIO DI ROSICCHIARE LE UNGHIA. UNA BRUTTA ABITUDINE ALLA QUALE NON SEPPE MAI RINUNCIARE MA CHE CAMUFFO' NEL PIU' ELEGANTE DEI MODI!!
WHITE GLOVES WERE A FETISH ACCESSORY FOR JACKIE FOR A RATHER BIZARRE REASON: IT SEEMS THAT THE PERFECT FIRST LADY HAD A NAIL-BITING HABIT. A NASTY HABIT SHE NEVER GAVE UP BUT DISGUISED IN THE MOST ELEGANT OF WAYS!
JACKIE HA IL MERITO DI AVER INVENTATO I PANTALONI CAPRI RENDENDO POPOLARI NEGLI ANNI 70 I PANTALONI A SIGARETTA CHE SCOPRIVANO IL MALLEOLO E CHE LEI SFOGGIAVA REGOLARMENTE PROPRIO DURANTE LE SUE VACANZE A CAPRI. INDOSSATI CON I CLASSICI SANDALI ISOLANI OPPURE A PIEDI SCALZI QUESTI PANTALONI DIVENNERO SUBITO SINONIMO DI UNO STILE CHIC.
JACKIE IS CREDITED WITH INVENTING THE CAPRI TROUSER BY POPULARISING IN THE 1970S THE CIGARETTE TROUSERS THAT REVEALED THE MALLEOLUS AND THAT SHE REGULARLY WORE ON HER CAPRI HOLIDAYS. WORN WITH CLASSIC ISLAND SANDALS OR BAREFOOT, THESE TROUSERS QUICKLY BECAME SYNONYMOUS WITH A CHIC STYLE.
GUCCI LE INTITOLO' UNA BORSA, LA JACKIE O' 
CARATTERIZZATA DA UNA TRACOLLINA CHE CONSENTE DI INFILARLA A SPALLA E DALLA FAMOSA CHIUSURA A MORSETTO. NON TUTTI SANNO PERO' CHE JACKIE LA USAVA COME SHOPPER DI SUPPORTO PER INFILARCI TUTTO CIO' CHE NON TROVAVA POSTO NELLE SUE CLASSICHE BORSETTE BON TON.
GUCCI NAMED A BAG AFTER HER, THE JACKIE O'
CHARACTERISED BY A STRAP THAT ALLOWS IT TO BE SLUNG OVER THE SHOULDER AND THE FAMOUS CLAMP CLOSURE. NOT EVERYONE KNOWS, HOWEVER, THAT JACKIE USED IT AS A CARRIER BAG TO FIT EVERYTHING THAT DIDN'T FIT IN HER CLASSIC BON TON HANDBAGS.
UN ALTRO ACCESSORIO FETICCIO DI JACKIE SONO GLI OCCHIALI DA SOLE OVER SIZE CHE TUTTE LE DONNE IMITAVANO.
QUESTI PERO' POTETTE INDOSSARLI SOLO QUANDO DIVENTO' MOGLIE DI ONASSIS, PERCHE' DA FIRST LADY L'ETICHETTA IMPONEVA AD UNA FIGURA PUBBLICA DI SPICCO DI NON CELARE MAI LO SGUARDO IN PUBBLICO.
ANOTHER OF JACKIE'S FETISH ACCESSORIES WERE THE OVERSIZED SUNGLASSES THAT ALL THE WOMEN IMITATED.
BUT SHE COULD ONLY WEAR THEM WHEN SHE BECAME THE WIFE OF ONASSIS, BECAUSE AS FIRST LADY, ETIQUETTE DICTATED THAT A PROMINENT PUBLIC FIGURE SHOULD NEVER HIDE HER GAZE IN PUBLIC.
GLI SCIVOLONI DI STILE DELLE DONNE:
WOMEN'S STYLE SLIPPAGES:
SPALLINE DEL REGGISENO A VISTA




CON ABITI O CANOTTIERE CON SCHIENA SCOPERTA O CON SPALLINE MOLTO FINI E' POCO DI STILE MOSTARE LA BRETELLINA DEL REGGISENO ANCHE SE DI SILICONE. OPTATE PER REGGISENI A FASCIA, SI TROVANO ANCHE CON AMPIO SOSTEGNO PER TAGLIE GRANDI! 

VISIBLE BRA STRAPSWITH DRESSES OR TANK TOPS WITH BARE BACKS OR VERY FINE STRAPS IT IS UNSTYLISH TO SHOW THE BRA STRAP EVEN IF IT IS MADE OF SILICONE. OPT FOR BANDEAU BRAS, THEY CAN ALSO BE FOUND WITH AMPLE SUPPORT FOR LARGER SIZES!

IL SEGNO DELLA BIANCHERIA SOTTO ABITI ATTILLATI

TUBINI OPPURE PANTALONI ATTILLATI CHE FANNO VEDERE LA BIANCHERIA INTIMA. OUT! LA SOLUZIONE? LA BIANCHERIA SENZA CUCITURE, A TAGLIO VIVO. 

THE SIGN OF UNDERWEAR UNDER TIGHT SHEATH DRESSES OR TIGHT TROUSERS THAT SHOW UNDERWEAR. OUT! THE SOLUTION? SEAMLESS, RAW-CUT UNDERWEAR.
CAMICIE TALMENTE STRETTE DA FAR CEDERE L'ABBOTTONATURA. NON SONO SEXY MA SI CADE NEL TRASH. SHIRTS THAT ARE SO TIGHT THAT THE BUTTON PLACKET GIVES WAY. THEY ARE NOT SEXY BUT THEY FALL INTO THE TRASHY
ABBINAMENTO PANTALONI A VITA BASSA TALI DA FAR VEDERE LA BIANCHERIA INTIMA…. MOLTO TRASH. MATCHING LOW-WAISTED TROUSERS SUCH AS TO SHOW UNDERWEAR…. VERY TRASH 

CALZE COLOR CARNE SI METTONO O NO? NI

CI SONO CALZE TALMENTE TRASPARENTI DA CONFONDERSI CON IL COLORE DELLA PELLE E SI NOTA SOLO CHE LE GAMBE SONO LUCIDE, ALLORA SI SOPRATTUTTO CON GLI ABITI COLOR PASTELLO, MA LA CALZA COLOR BEIGE TRISAVOLA NOOOOOOOOOOO  SHOULD FLESH-COLOURED STOCKINGS BE WORN OR NOT? NI THERE ARE STOCKINGS THAT ARE SO TRANSPARENT THAT THEY BLEND IN WITH THE COLOUR OF THE SKIN AND YOU ONLY NOTICE THAT THE LEGS ARE SHINY, THEN YES ESPECIALLY WITH PASTEL-COLOURED DRESSES, BUT THE BEIGE FLESH-COLOURED STOCKING NOOOOOOO

SCARPE CON I TACCHI ALTISSIMI SE POI NON TI SEI ALLENATA NEL CAMMINARE ASSUMI UN ATTEGGIAMENTO GOFFO TUTT'ALTRO CHE SEXY  

SHOES WITH VERY HIGH HEELS IF YOU HAVE NOT PRACTISED WALKING YOU ASSUME AN AWKWARD ATTITUDE THAT IS ANYTHING BUT SEXY

SE SI HA UN SENO ABBONDANTE TROVARE DELLE GIUSTE SCOLLATURE, PROFONDE MA NON VOLGARI 

 

IF YOU HAVE AMPLE BREASTS, FIND THE RIGHT NECKLINES, DEEP BUT NOT VULGAR

NO MIXARE LE FANTASIE INSIEME NON SIAMO A CARNEVALE  

NO MIXING FANTASIES TOGETHER WE ARE NOT AT CARNIVAL
9.       SANDALI TROPPO LARGHI O STRETTI TANTO CHE LE DITA SONO                             STRIZZATE; SE IL PIEDE HA UNA PIANTA LARGA NON SCEGLIETE
       SANDALI A STRISCIOLINE IN QUANTO NON CONTERREBBERO IL PIEDE               DANDO VITA ALL'EFFETTO INVOLTINO. MEGLIO SCEGLIERE UNA                           CALZATURA CHIUSA DAVANTI. SANDALS THAT ARE TOO WIDE OR TOO TIGHT SO THAT THE TOES ARE SQUEEZED; IF THE FOOT HAS A WIDE SOLE, DO NOT CHOOSE STRAPPY SANDALS AS THEY WOULD NOT CONTAIN THE FOOT, GIVING RISE TO THE ROLL EFFECT. BETTER TO CHOOSE A SHOE THAT IS CLOSED AT THE FRONT.  
10. I SABOT NON SI INDOSSANO CON NESSUN TIPO DI CALZINO SABOTS ARE NOT WORN WITH ANY KIND OF SOCK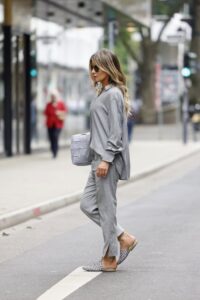 YES                                                                                                                         NO
11) SNEAKERS ABOLITE SOTTO GONNE ELEGANTI TIPO PLISSE', CON TULLE,           DI LINEA ROMANTICA ECC. ABBINATE LE BALLERINE ABOLISH TRAINERS           UNDER ELEGANT SKIRTS SUCH AS PLEATED, TULLE, ROMANTIC LINE ETC.         MATCH BALLERINA-TYPE SHOES
GRAZIE PER AVERCI SEGUITE
https://play.server89.com/radioantennamusica/
SABINA E ANTONIETTA ZICOLELLA