sound track of the episode
IN QUESTA PUNTATA PARLIAMO DI CINEMA E MODA CHE SONO COMPLEMENTARI TRA LORO.
NON A CASO HOLLYWOOD E' LA PIU' IMPORTANTE PASSERELLA PER UNO STILISTA. DIETRO AD OGNI PERSONAGGIO DELLO SPETTACOLO C'E' UNO STILISTA CHE PENSA E PRODUCE UN ABITO ADATTO AL SUO FISICO, MINIMIZZANDO I DIFETTI ED ENFATIZZANDO I LORO PREGI, PER POI PROPORRE DI INDOSSARLO NELLE GRANDI OCCASIONI.
QUESTO SODALIZIO LO TROVIAMO GIA' NEGLI ANNI '30 QUANDO GRETA GARBO E JOAN CRAWFORD FURONO COSTRUITE STILISTICAMENTE DAL COSTUMISTA FRANCESE ADRIAN. 
IL CINEMA HA FATTO NASCERE GRANDI STILISTI COME CHRISTIAN DIOR, HUBERT GIVENCHY, LE SORELLE FONTANA..E TANTI TANTI ALTRI.
IN BASE ALLA LOCATION ED AL PERIODO DI AMBIENTAZIONE DEL FILM, SI SCEGLIE ACCURATAMENTE OGNI SINGOLO ABITO CHE GLI ATTORI INDOSSERANNO SUL SET. IL COSTUME HA IL COMPITO DI RIUSCIRE A TRASMETTERE UN'EMOZIONE E DEVE RACCONTARE INSIEME ALLE BATTUTE DELL'ATTORE LA TRAMA DEL FILM.
QUANDO VEDIAMO UN FILM GIA' NELLE PRIME SCENE CI VIENE SPONTANEO GUARDARE I COSTUMI ED INDIVIDUARE L'EPOCA DI AMBIENTAZIONE DEL FILM.
RICORDO CHE IL 1981 NOI RAGAZZE DELLA SCUOLA DI MODA ANDAMMO A VEDERE IL FILM CON ADRIANO CELENTANO ED ORNELLA MUTI "INNAMORATO PAZZO" IN CUI LA SPLENDIDA ORNELLA INDOSSAVA UN ABITO BIANCO DRAPPEGGIATO FINKELMAN. IL GIORNO DOPO A SCUOLA NON FACEMMO ALTRO CHE PARLARE DEL FILM, PERCIO' LA LEZIONE FU PROPRIO QUELLA DI DISEGNARE IL CARTAMODELLO DELL'ABITO DELL'ATTRICE.
IN THIS EPISODE WE TALK ABOUT CINEMA AND FASHION, WHICH ARE COMPLEMENTARY TO EACH OTHER.
IT IS NO COINCIDENCE THAT HOLLYWOOD IS THE MOST IMPORTANT CATWALK FOR A STYLIST. BEHIND EVERY SHOWBIZ PERSONALITY THERE IS A STYLIST WHO THINKS UP AND PRODUCES A DRESS SUITED TO THEIR PHYSIQUE, MINIMISING THEIR FLAWS AND EMPHASISING THEIR MERITS, AND THEN PROPOSES TO WEAR IT ON SPECIAL OCCASIONS.
THIS ASSOCIATION CAN ALREADY BE FOUND IN THE 1930S WHEN GRETA GARBO AND JOAN CRAWFORD WERE STYLISTICALLY CONSTRUCTED BY THE FRENCH COSTUME DESIGNER ADRIAN.
THE CINEMA GAVE BIRTH TO GREAT STYLISTS SUCH AS CHRISTIAN DIOR, HUBERT GIVENCHY, THE FONTANA SISTERS..AND MANY OTHERS.
DEPENDING ON THE LOCATION AND THE PERIOD OF THE FILM, EVERY SINGLE OUTFIT THAT THE ACTORS WILL WEAR ON SET IS CAREFULLY CHOSEN. THE COSTUME HAS THE TASK OF CONVEYING AN EMOTION AND MUST TELL THE STORY OF THE FILM TOGETHER WITH THE ACTOR'S LINES.
WHEN WE SEE A FILM ALREADY IN THE FIRST SCENES, IT IS SPONTANEOUS FOR US TO LOOK AT THE COSTUMES AND IDENTIFY THE ERA OF THE FILM'S SETTING.
I REMEMBER THAT IN 1981 WE GIRLS FROM THE FASHION SCHOOL WENT TO SEE THE FILM WITH ADRIANO CELENTANO AND ORNELLA MUTI "INNAMORATO PAZZO" IN WHICH THE BEAUTIFUL ORNELLA WORE A WHITE FINKELMAN DRAPED DRESS. THE NEXT DAY AT SCHOOL WE DID NOTHING BUT TALK ABOUT THE FILM, SO THE LESSON WAS TO DESIGN THE PATTERN FOR THE ACTRESS' DRESS.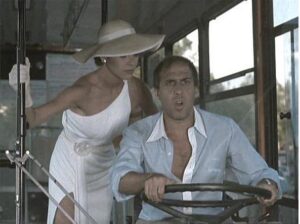 WAYNE AARON FINKELMAN E' UN COSTUMISTA STATUNITENSE CHE HA FIRMATO I FILM PIU' PRESTIGIOSI DI SERGIO CORBUCCI, DINO RISI, PASQUALE FESTA CAMPANILE, STENO OLTRE AI FILM STRANIERI.
VI DIAMO UNA CHICCA SIGNORI SOLTANTO A PARTIRE DAL 1948 VENNE ISTITUITO IL PREMIO OSCAR PER I COSTUMI: ALLE ORIGINI DEL CINEMA INFATTI LE ATTRICI PROVVEDEVANO PERSONALMENTE AL LORO GUARDAROBA OPPURE SI RIVOLGEVANO ALLE SARTORIE TEATRALI.
SE GIVENCHY NON AVESSE VESTITO SUL SET E NELLA SUA VITA LA SUA AMATA ATTRICE AUDREY HEPBURN OGGI NON AVREMMO NELLA NOSTRA MENTE QUESTO CONNUBIO COSI' FORTE IN CUI UNO HA DATO LUSTRO E VISIBILITA' ALL'ALTRO.
INFATTI RICORDIAMO CHE IL FILM "SABRINA" NEL 1955 VINSE IL PREMIO OSCAR PER I COSTUMI.
WAYNE AARON FINKELMAN IS AN AMERICAN COSTUME DESIGNER WHO HAS DESIGNED THE MOST PRESTIGIOUS FILMS OF SERGIO CORBUCCI, DINO RISI, PASQUALE FESTA CAMPANILE, STENO AS WELL AS FOREIGN FILMS.
WE GIVE YOU A TIDBIT GENTLEMEN ONLY IN 1948 WAS THE OSCAR PRIZE FOR COSTUMES INSTITUTED: IN THE ORIGINS OF CINEMA IN FACT, ACTRESSES PERSONALLY PROVIDED FOR THEIR WARDROBE OR TURNED TO THEATRICAL TAILORS.
IF GIVENCHY HAD NOT DRESSED HIS BELOVED ACTRESS AUDREY HEPBURN ON THE SET AND IN HIS LIFE, TODAY WE WOULD NOT HAVE IN OUR MINDS SUCH A STRONG UNION IN WHICH ONE GAVE PRESTIGE AND VISIBILITY TO THE OTHER.
IN FACT WE REMEMBER THAT THE FILM "SABRINA" IN 1955 WON THE OSCAR AWARD FOR COSTUMES.
CHI NON RICORDA IL BELLISSIMO FILM:"IL DIAVOLO VESTE PRADA" DEL 2006 CON ANNE HATHAWAY E MERYL STREEP NEL RUOLO DI MIRANDA PRIESTLY. RICORDIAMO ANCHE LA PRESTIGIOSA PARTECIPAZIONE DI VALENTINO GARAVANI NEL FILM.
WHO DOESN'T REMEMBER THE BEAUTIFUL 2006 FILM "THE DEVIL WEARS PRADA" STARRING ANNE HATHAWAY AND MERYL STREEP AS MIRANDA PRIESTLY. WE ALSO REMEMBER THE PRESTIGIOUS PARTICIPATION OF VALENTINO GARAVANI IN THE FILM.
LA PROTAGONISTA ANDREA SAX E' UNA GIOVANE LAUREATA CHE VUOLE INTRAPRENDERE LA CARRIERA DI GIORNALISTA.
UN'OPPORTUNITA' POTREBBE SPIANARLE LA STRADA:
UN ANNO COME SEGRETARIA DI MIRANDA PRIESTLY CAPOREDATTRICE DI UNA DELLE PIU' FAMOSE ED AUTOREVOLI RIVISTE DI MODA: RUNAWAY. IL PROBLEMA E' CHE ANDY NON CONOSCE E NON E' INTERESSATA AL MONDO DELLA MODA E MIRANDA E' FAMOSA PER ESSERE ESIGENTE E CAPRICCIOSA.
THE PROTAGONIST ANDREA SAX IS A YOUNG GRADUATE WHO WANTS TO PURSUE A CAREER AS A JOURNALIST.
AN OPPORTUNITY COULD PAVE THE WAY FOR HER:
A YEAR AS SECRETARY TO MIRANDA PRIESTLY EDITOR-IN-CHIEF OF ONE OF THE MOST FAMOUS AND AUTHORITATIVE FASHION MAGAZINES: RUNAWAY. THE PROBLEM IS THAT ANDY HAS NO KNOWLEDGE OR INTEREST IN THE FASHION WORLD AND MIRANDA IS FAMOUS FOR BEING DEMANDING AND CAPRICIOUS.
QUALCUNO DICE CHE E' UN FILM LEGGERO, FATTO SOLO DI LUSTRINI E ABITI DA SOGNO MA NON E' COSI', PERCHE' NE VERRA' FUORI UN CAMBIAMENTO DELLA PROTAGONISTA.
NELLA VITA DI TUTTI I GIORNI CI SI TROVA A SCENDERE A PATTI CON UNA VERITA' CHE PUO' PIACERE OPPURE NO: LA PRIMA IMPRESSIONE NELLA NOSTRA SOCIETA' CONTA, ECCOME.
QUESTO NON AVVIENE SOLO AGLI OCCHI DI CHI E' APPASSIONATO DI MODA E TIENE ALLA CURA DI SE', MA ANCHE IN MODO PIU' INCONSAPEVOLE A COLORO CHE NON SPOSANO, O ADDIRITTURA RIFIUTANO, QUESTO PUNTO DI VISTA.
IN QUALUNQUE MODO CI VESTIAMO DIAMO UN'IMMAGINE DI NOI AL MONDO CHE CI CIRCONDA.
NEI LIBRI DELLA GUARINO SCUOLA MODA C'E' UNA FRASE DI HERBERT SPENCER: "LA COSCIENZA DI ESSERE PERFETTAMENTE BEN VESTITI PUO' REGALARE UNA TRANQUILLITA' INTERIORE CHE MOLTE ALTRE COSE NON POSSONO DARE".
INFATTI SI NOTA COME AL CAMBIAMENTO NELL'ABBIGLIAMENTO DELLA PROTAGONISTA, CORRISPONDE UN CAMBIAMENTO DELLA PERSONALITA'. LASCIATE LE ORRENDE GONNE LUNGHEZZA NONNA, CON CAMICETTE ANONIME DA EDUCANDA, MAGLIONI GOFFI E LARGHISSIMI ANDY COMINCIA A SCOPRIRE SE STESSA. GODIAMOCI KATE TUNSTALL "SUDDENLY I SEE" COLONNA SONORA DEL FILM 
SOME SAY IT'S A LIGHT-HEARTED FILM, MADE UP ONLY OF SEQUINS AND DREAM CLOTHES, BUT THAT'S NOT THE CASE, BECAUSE THE PROTAGONIST IS GOING TO CHANGE.
IN EVERYDAY LIFE WE COME TO TERMS WITH A TRUTH THAT WE MAY OR MAY NOT LIKE: THE FIRST IMPRESSION IN OUR SOCIETY COUNTS, AND HOW MUCH.
THIS HAPPENS NOT ONLY IN THE EYES OF THE FASHION-CONSCIOUS AND SELF-CONSCIOUS, BUT ALSO MORE UNCONSCIOUSLY TO THOSE WHO DO NOT ESPOUSE, OR EVEN REJECT, THIS POINT OF VIEW.
HOWEVER WE DRESS WE GIVE AN IMAGE OF US TO THE WORLD AROUND US.
IN THE BOOKS OF THE GUARINO FASHION SCHOOL THERE IS A SENTENCE BY HERBERT SPENCER: "THE CONSCIOUSNESS OF BEING PERFECTLY WELL DRESSED CAN GIVE AN INNER TRANQUILLITY THAT MANY OTHER THINGS CANNOT".
IN FACT YOU CAN SEE HOW THE CHANGE IN THE PROTAGONIST'S CLOTHING CORRESPONDS TO A CHANGE IN PERSONALITY. LEAVING BEHIND THE HIDEOUS GRANDMOTHER-LENGTH SKIRTS, WITH ANONYMOUS SCHOOLGIRL BLOUSES, AWKWARD AND BAGGY JUMPERS ANDY BEGINS TO DISCOVER HERSELF. ENJOY TO KATE TUNSTALL 'SUDDENLY I SEE' FILM SOUNDTRACK
NON C'E' UN LEGAME EFFETTIVO TRA IL VESTIARIO E IL TALENTO NEL SUO LAVORO, MA IL MODO IN CUI SI SENTE DI ESSERE PERCEPITA DAGLI ALTRI.
SE LAVORIAMO CON PERSONE CONVINTE CHE NON SIAMO ADATTI PER QUEL RUOLO, FINIREMO PER CONVINCERCI DI NON ESSERE TAGLIATI PER IL NOSTRO LAVORO. LE APPARENZE HANNO UN RUOLO FONDAMENTALE NELLA PERCEZIONE CHE L'ALTRO HA DI NOI, SI RIFLETTONO POI NEL MODO IN CUI CI COMPORTIAMO
IN UN MONDO IN CUI BISOGNA FARSI DURI PER ANDARE AVANTI, IL FILM METTE A CONFRONTO DUE DONNE CHE SEMBRANO APPARTENERE
A DUE POLI OPPOSTI MA PIANO PIANO SI AVVICINANO: ANDY E AMANDA.
THERE IS NO ACTUAL LINK BETWEEN DRESS AND TALENT IN YOUR JOB, BUT THE WAY YOU FEEL YOU ARE PERCEIVED BY OTHERS.
IF WE WORK WITH PEOPLE WHO ARE CONVINCED THAT WE ARE NOT SUITED FOR THAT ROLE, WE WILL END UP CONVINCING OURSELVES THAT WE ARE NOT CUT OUT FOR THE JOB. APPEARANCES PLAY A KEY ROLE IN HOW OTHERS PERCEIVE US, THEY ARE THEN REFLECTED IN THE WAY WE BEHAVE
IN A WORLD WHERE YOU HAVE TO GET TOUGH TO GET AHEAD, THE FILM COMPARES TWO WOMEN WHO SEEM TO BELONG
OPPOSITE POLES, BUT SLOWLY COME CLOSER TOGETHER: ANDY AND AMANDA
SONO L'IMMAGINE DELLA DONNA IN CARRIERA: UNA LA STA INTRAPRENDENDO E L'ALTRA L'HA GIA' AVVIATA DA TEMPO.
ATTRAVERSO ANDY VIVIAMO TUTTI GLI STADI CHE SI ATTRAVERSANO QUANDO SI COMINCIA AD AVER SUCCESSO NELL'AMBITO LAVORATIVO, INCLUSI I CAMBIAMENTI NEI RAPPORTI CON LE PERSONE CHE CI CIRCONDANO. ANDY DIVENTA PIU' SICURA DI SE', IMPARA A SAPERSI VESTIRE, TRUCCARE, PETTINARE E QUESTA NUOVA ANDY NON PIACE AGLI AMICI ED AL COMPAGNO. VOGLIONO LA ANDY ANONIMA, INSICURA, SEMPLICE. CON QUESTA NUOVA ANDY NON VOGLIO AVER A CHE FARE, PERCHE' LA SUA SICUREZZA, BELLEZZA, GUSTO LI FA SEMBRARE …. MENO. QUINDI ESSERE MENO DI UNA PERSONA CHE PRIMA SI RITENEVA INSICURA, GOFFA, SEMPLICIOTTA… DA' MOLTO AI NERVI, NON SOLO AGLI AMICI MA ANCHE AL COMPAGNO. A QUESTO PUNTO IO CITEREI UN AFORISMA DI MICHAEL REID:
THEY ARE THE IMAGE OF THE CAREER WOMAN: ONE IS EMBARKING ON IT AND THE OTHER HAS ALREADY STARTED IT SOME TIME AGO.
THROUGH ANDY WE EXPERIENCE ALL THE STAGES YOU GO THROUGH WHEN YOU START TO SUCCEED IN YOUR CAREER, INCLUDING CHANGES IN YOUR RELATIONSHIPS WITH THE PEOPLE AROUND YOU. ANDY BECOMES MORE SELF-CONFIDENT, SHE LEARNS HOW TO DRESS, DO MAKE-UP, COMB HER HAIR, AND THIS NEW ANDY IS NOT LIKED BY HER FRIENDS AND PARTNER. THEY WANT THE ANONYMOUS, INSECURE, SIMPLE ANDY. I DON'T WANT TO DEAL WITH THIS NEW ANDY, BECAUSE HER CONFIDENCE, BEAUTY, TASTE MAKES THEM LOOK …. LESS. SO BEING LESS THAN A PERSON WHO PREVIOUSLY THOUGHT OF HERSELF AS INSECURE, AWKWARD, SIMPLE… GETS ON ONE'S NERVES A LOT, NOT ONLY TO ONE'S FRIENDS BUT ALSO TO ONE'S PARTNER. AT THIS POINT I WOULD QUOTE AN APHORISM BY MICHAEL REID:
AD UN CERTO PUNTO ANDY SEMBRA QUASI ESSERE DIVENTATA COME MIRANDA PRENDENDO IL POSTO DI EMILY E ANDANDO A PARIGI PER TENERSI IL LAVORO. SI PROPRIO COME MIRANDA CHE HA DOVUTO DEMOLIRE LE SPERANZE DI CARRIERA DELLA SUA CONCORRENTE CHE AVREBBE POTUTO RUBARLE IL POSTO DI DIRETTRICE A RUNWAY. PERO' C'E' UN COLPO DI SCENA QUANDO ANDY SI ACCORGE DI TUTTO QUESTO RINUNCIA A QUEL TIPO DI VITA IN CUI L'EGOISMO DILAGA: REGALA I SUOI ABITI AD EMILY E MIRANDA SCRIVE UNA LETTERA AL DIRETTORE DI UNA TESTATA GIORNALISTICA PER CONVINCERLO AD ASSUMERE ANDY.
INFATTI ALL'EGOISMO SPREGIUDICATO SI CONTRAPPONE UNO SPIRAGLIO DI OTTIMISMO SECONDO CUI NELLA VITA C'E' SEMPRE LA POSSIBILITA' DI FARE QUALCOSA DI DIVERSO. UNO DEI PEZZI CHE COMPONE LA COLONNA SONORA DEL FILM   U2 City Of Blinding Lights
AT ONE POINT ANDY ALMOST SEEMS TO HAVE BECOME LIKE MIRANDA BY TAKING EMILY'S PLACE AND GOING TO PARIS TO KEEP HER JOB. YES JUST LIKE MIRANDA WHO HAD TO DEMOLISH THE CAREER HOPES OF HER COMPETITOR WHO COULD HAVE STOLEN HER JOB AS DIRECTOR AT RUNWAY. BUT THERE'S A TWIST WHEN ANDY REALISES SHE'S RENOUNCING THAT KIND OF LIFE WHERE SELFISHNESS IS RAMPANT: SHE GIVES HER CLOTHES TO EMILY AND MIRANDA WRITES A LETTER TO THE EDITOR OF A NEWSPAPER TO CONVINCE HIM TO HIRE ANDY.
IN FACT, UNSCRUPULOUS SELFISHNESS IS COUNTERED BY A GLIMMER OF OPTIMISM THAT THERE IS ALWAYS A CHANCE TO DO SOMETHING DIFFERENT IN LIFE. ONE OF THE PIECES COMPOSING THE SOUND COLUMN OF THE U2 FILM City Of Blinding Lights
ESATTAMENTE COME UN FILM IL VESTITO E' UN LINGUAGGIO VERO E PROPRIO. DAGLI ANNI '50 AD OGGI LA MODA RIVESTIRA' UN RUOLO SEMPRE PIU' FONDAMENTALE NEL CINEMA. NON SOLO  HOLLYWOOD MA ANCHE CINECITTA' CONTRIBUI' AD INFLUENZARE IL MONDO DELLA MODA E DELLO SPETTACOLO. IL LEGAME STILISTA-CINEMA NEGLI ANNI DIVENTERA' PIU' FORTE, GRANDI NOMI COME ARMANI, CERRUTI, GAULTIER, CHANEL, DOLCE E GABBANA VESTONO ANCORA LE DIVE DEL CINEMA.
L'ABITO E' UN SEGNO ICONICO, AMPLIFICA L'ASPETTO DEL FILM E RIATTIVA LA NOSTRA MEMORIA IDENTIFICANDO UN PERSONAGGIO CON UN ABITO.
CHI NON RICORDA AUDREY HEPBURN CON IL TUBINO NERO LUNGO E LE PERLE IN "COLAZIONE DA TIFFANY" CREATO DA GIVENCHY CHE LA VESTI' ANCHE IN "SABRINA" E "CENERENTOLA A PARIGI".
JUST LIKE A FILM, THE DRESS IS A LANGUAGE IN ITS OWN RIGHT. FROM THE 1950S TO THE PRESENT DAY, FASHION PLAYED AN INCREASINGLY FUNDAMENTAL ROLE IN CINEMA. NOT ONLY HOLLYWOOD BUT ALSO CINECITTA' HELPED TO INFLUENCE THE WORLD OF FASHION AND ENTERTAINMENT. THE STYLIST-CINEMA LINK BECAME STRONGER OVER THE YEARS, BIG NAMES SUCH AS ARMANI, CERRUTI, GAULTIER, CHANEL, DOLCE E GABBANA STILL DRESS FILM DIVAS.
THE DRESS IS AN ICONIC SIGN, IT AMPLIFIES THE LOOK OF THE FILM AND REACTIVATES OUR MEMORY BY IDENTIFYING A CHARACTER WITH A DRESS.
WHO DOESN'T REMEMBER AUDREY HEPBURN WITH THE LONG BLACK DRESS AND PEARLS IN "BREAKFAST AT TIFFANY'S" CREATED BY GIVENCHY WHO ALSO DRESSED HER IN "SABRINA" AND "CINDERELLA IN PARIS".
RICORDIAMO ANCHE UN DIVO DEL CINEMA IN "AMERICAN GIGOLO'" RICHARD GERE CHE COMPLETO' LA SUA IMMAGINE NARCISISTA INDOSSANDO ABITI FIRMATI ARMANI. UNA SCELTA CHE HA CONTRIBUITO AD INNESCARE IL BOOM DELLA MODA ITALIANA NEGLI ANNI '80.
WE ALSO REMEMBER A FILM STAR IN 'AMERICAN GIGOLO' RICHARD GERE WHO COMPLETED HIS NARCISSISTIC IMAGE BY WEARING ARMANI DESIGNER CLOTHES. A CHOICE THAT HELPED TRIGGER THE ITALIAN FASHION BOOM IN THE 1980S.
ALTRA ICONA IMMORTALE DELLA COMMEDIA ANNI '50 E' MARYLIN MONROE CON IL SUO ABITO BIANCO CON GONNA PLISSETTATA CHE SI SOLLEVAVA SULLE GRATE DELLA METROPOLITANA, DISEGNATO DAL COSTUMISTA WILLIAM TRAVILLA. 
ANOTHER IMMORTAL ICON OF 1950S COMEDY IS MARYLIN MONROE IN HER WHITE DRESS WITH A PLEATED SKIRT THAT LIFTED OVER UNDERGROUND GRATES, DESIGNED BY COSTUME DESIGNER WILLIAM TRAVILLA.
GODETEVI QUESTA STUPENDA CANZONE DI  RICCARDO COCCIANTE "MARILYN"
ENJOY THIS WONDERFUL SONG BY RICCARDO COCCIANTE 'MARILYN'
ALTRO COSTUME ICONICO DEGLI ANNI 50 E' QUELLO DI OLIVIA NEWTON JOHN IN "GREASE" CHE SMESSI I PANNI DA STUDENTESSA PERBENE,
ANOTHER ICONIC COSTUME FROM THE 1950S IS THAT OF OLIVIA NEWTON JOHN IN 'GREASE' WHO SHED HER ROLE AS A RESPECTABLE SCHOOLGIRL,
INDOSSA QUELLI DI CATWOMAN TOTAL BLACK.
WEARING CATWOMAN'S TOTAL BLACK.
IL SUO GIUBBOTTO DI PELLE NERA DIVENNE UN MUST. 
HIS BLACK LEATHER JACKET BECAME A MUST.
NEGLI ANNI 50 CI FU UNA RIVOLUZIONE NELLA MODA, CHE COMINCIO' IN AMERICA PER POI DIFFONDERSI.
FU PROPRIO GRAZIE ALL'INFLUENZA DEL CINEMA CHE L'ABBIGLIAMENTO PER I TEENAGERS INIZIO' A DIVERSIFICARSI DA QUELLO DEGLI ADULTI.
COSTUMI ICONICI SONO QUELLI DI JULIA ROBERTS IN "PRETTY WOMAN".
VIVIEN DA ESCORT SI TRASFORMA IN DONNA DELL'ALTA BORGHESIA E SONO PROPRIO GLI ABITI AD ACCOMPAGNARE QUESTA TRASFORMAZIONE.
IN THE 1950S THERE WAS A REVOLUTION IN FASHION, WHICH STARTED IN AMERICA AND THEN SPREAD.
IT WAS THANKS TO THE INFLUENCE OF THE CINEMA THAT CLOTHING FOR TEENAGERS BEGAN TO DIVERSIFY FROM THAT OF ADULTS.
ICONIC COSTUMES ARE THOSE OF JULIA ROBERTS IN 'PRETTY WOMAN'.
VIVIEN IS TRANSFORMED FROM AN ESCORT INTO AN UPPER MIDDLE CLASS WOMAN AND IT IS THE CLOTHES THAT ACCOMPANY THIS TRANSFORMATION.
IN PRETTY WOMAN SONO TANTI GLI ABITI CHE CI FANNO SOGNARE. VIVIEN DOPO UN'INFRUTTUOSO GIRO DI SHOPPING A RODEO DRIVE E DOPO IL PROVVIDENZIALE INTERVENTO DEL DIRETTORE DELL'ALBERGO DOVE ALLOGGIA, TROVA IL SUO ABITO DA COCKTAIL: IN PIZZO NERO CHE LE CALZA COME UN GUANTO. L'ABITO LE VIENE RECAPITATO IN CAMERA IN UNA SCATOLA SU CUI CAMPEGGIA IL MARCHIO GUCCI.
IN PRETTY WOMAN THERE ARE MANY DRESSES THAT MAKE US DREAM. VIVIEN, AFTER A FRUITLESS SHOPPING TRIP TO RODEO DRIVE AND THE PROVIDENTIAL INTERVENTION OF THE MANAGER OF THE HOTEL WHERE SHE IS STAYING, FINDS HER COCKTAIL DRESS: BLACK LACE THAT FITS HER LIKE A GLOVE. THE DRESS IS DELIVERED TO HER ROOM IN A BOX BEARING THE GUCCI LABEL.
NELLA BOUTIQUE DOVE LO SCEGLIE ERANO IN VENDITA ABITI DI VALENTINO, FERRE', VERSACE E KRIZIA.
IL PIU' ICONICO? SICURAMENTE L'ABITO DA SERA CHE VIVIAN INDOSSA PER ANDARE ALL'OPERA. ISPIRATO AGLI ABITI ROMANTICI DI VALENTINO CON IL CARATTERISTICO ROSSO FUOCO.
IN THE BOUTIQUE WHERE HE CHOSE IT, DRESSES BY VALENTINO, FERRE', VERSACE AND KRIZIA WERE ON SALE.
THE MOST ICONIC? DEFINITELY THE EVENING DRESS VIVIAN WEARS TO THE OPERA. INSPIRED BY VALENTINO'S ROMANTIC DRESSES WITH THEIR CHARACTERISTIC FIERY RED.
INIZIALMENTE L'ABITO NON POTEVA ESSERE ROSSO E CI FU UNA DISCUSSIONE TRA LO STUDIO IL PRODUTTORE E LA COSTUMISTA, PERCHE' VOLEVANO CHE JULIA INDOSSASSE UN ABITO NERO. FORTUNATAMENTE LA COSTUMISTA VINSE E L'ABITO ROSSO DI VIVIAN E' DIVENTATO UN ELEMENTO ICONICO RIMASTO IMPRESSO NELLA NOSTRA MEMORIA.
INITIALLY THE DRESS COULD NOT BE RED AND THERE WAS AN ARGUMENT BETWEEN THE STUDIO THE PRODUCER AND THE COSTUME DESIGNER, BECAUSE THEY WANTED JULIA TO WEAR A BLACK DRESS. FORTUNATELY THE COSTUME DESIGNER WON AND VIVIAN'S RED DRESS BECAME AN ICONIC ELEMENT THAT HAS REMAINED ETCHED IN OUR MEMORY.
L'ABITO DA COCKTAIL INDOSSATO PER LA PARTITA DI POLO E' UN ALTRO ABITO ICONICO. FU REALIZZATO CON UNO SCAMPOLO DI SETA PROVENIENTE DA UNO SCANTINATO DI WEST HOLLYWOOD, LA STOFFA BASTO' A MALAPENA PER REALIZZARE L'ABITO E RIFINIRE IL CAPPELLO, A DIFFERENZA DELLE SCARPE BIANCHE CHE SONO FIRMATE CHANEL.
THE COCKTAIL DRESS WORN FOR THE POLO MATCH IS ANOTHER ICONIC DRESS. IT WAS MADE FROM A REMNANT OF SILK FROM A WEST HOLLYWOOD BASEMENT, THE FABRIC WAS BARELY ENOUGH TO MAKE THE DRESS AND FINISH THE HAT, UNLIKE THE WHITE SHOES WHICH ARE SIGNED CHANEL.
COME ABBIAMO DETTO PER ANDY DE "IL DIAVOLO VESTE PRADA" L'ABBIGLIAMENTO E' LO SPECCHIO DEL NOSTRO MOOD, CI ACCOMPAGNA NON SOLO NELLA CRESCITA FISICA, MA SOPRATTUTTO NELLA CRESCITA INTERIORE. NELLA NOSTRA VITA ADATTIAMO L'ABBIGLIAMENTO ALLA NOSTRA ETA', MA ANCHE AL RUOLO CHE RICOPRIAMO NELLA SOCIETA'.
VOLTIAMO PAGINA E PASSIAMO AL NOSTRO VOCABOLARIO TECNICO QUINDI AMICI PRENDETE APPUNTI.
SETA
LA PIU' NOBILE TRA LE FIBRE NATURALI, E' NATA IN CINA 5000 ANNI FA. FACILE DA LAVORARE, DI LUCENTEZZA E BELLEZZA ECCEZIONALI SI PRESENTA IN MOLTEPLICI TIPOLOGIE DI TESSUTO. IN PARTICOLARE NELLA GAMMA DEI CRESPI E DEI RASI, PERFETTO PER ABITI, CAMICIE E BLUSE ELEGANTI.
ORGANZA
TESSUTO IN SETA O MISTO PRODOTTO CON FILI FINISSIMI A MANO RIGIDA E ASPETTO LISCIO E TRASPARENTE. APPENA LUCENTE DALL'ARIA FORMALE PUO' ESSERE ANCHE GOFFRATA. HA PRINCIPALMENTE TRE PESANTEZZE CHE VENGONO UTILIZZATE A SECONDO DELLE ESIGENZE: TRIPLA (MOLTO RIGIDA E VIVA), MEDIA (LA PIU' DUTTILE) O LEGGERISSIMA (UN AUTENTICO VELO IMPALPABILE).
AS WE SAID FOR ANDY FROM "THE DEVIL WEARS PRADA" CLOTHING IS THE MIRROR OF OUR MOOD, IT ACCOMPANIES US NOT ONLY IN OUR PHYSICAL GROWTH, BUT ABOVE ALL IN OUR INNER GROWTH. IN OUR LIFE WE ADAPT OUR CLOTHING TO OUR AGE, BUT ALSO TO OUR ROLE IN SOCIETY.
LET'S TURN THE PAGE AND MOVE ON TO OUR TECHNICAL VOCABULARY, SO FRIENDS TAKE NOTES.
SILK
THE NOBLEST OF NATURAL FIBRES, IT ORIGINATED IN CHINA 5000 YEARS AGO. EASY TO WORK, OF EXCEPTIONAL LUSTRE AND BEAUTY, IT COMES IN MANY TYPES OF FABRIC. PARTICULARLY IN THE CREPE AND SATIN RANGE, PERFECT FOR ELEGANT DRESSES, SHIRTS AND BLOUSES.
ORGANZA
SILK OR BLENDED FABRIC PRODUCED WITH VERY FINE THREADS WITH A STIFF HAND AND A SMOOTH, TRANSPARENT APPEARANCE. BARELY LUSTROUS WITH A FORMAL APPEARANCE IT CAN ALSO BE EMBOSSED. IT HAS MAINLY THREE WEIGHTS WHICH ARE USED ACCORDING TO REQUIREMENTS: TRIPLE (VERY STIFF AND LIVELY), MEDIUM (THE MOST DUCTILE) OR VERY LIGHT (A TRUE IMPALPABLE VEIL).
GRAZIE AMICI ALLA PROSSIMA PUNTATA SU RADIO ANTENNA MUSICA
THANKS FRIENDS SEE YOU NEXT TIME ON RADIO ANTENNA MUSICA
https://play.server89.com/radioantennamusica/
SABINA E ANTONIETTA ZICOLELLA